About Nihal Khan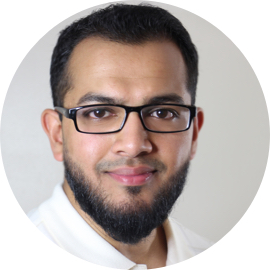 This online workshop will be taught by Nihal Ahmad Khan, our guest teacher at Quran Academy. Nihal is currently a student of Islamic Law and Theology at Nadwatul 'Ulama in Lucknow, India. He was born and raised in New Jersey and holds a bachelor's degree in Psychology and a minor in Business from Montclair State University and a diploma in Arabic from Bayyinah Institute's Dream Program.
He began memorizing the Quran at Darul Uloom New York and finished at the age of seventeen at the Saut al-Furqan Academy in Teaneck, New Jersey. He went on to lead taraweeh every year since then. Along with his education, Nihal has worked in various capacities in the Muslim community as an assistant Imam, youth director, and a Muslim Chaplain at correctional facilities and social service organizations.
Nihal used to find it hard to learn Arabic, often struggling to understand the way Arabic was conventionally taught. After studying Arabic through several modes including traveling courses, in university, the Bayyinah Dream program, Studio Arabiya, and the Dars al-Nizami curriculum, Nihal discovered a way of learning Arabic that helped him understand the Quran easily.
Based on a number of techniques that helped him learn Arabic, Nihal has applied his learning journey to help others learn Arabic. For the past 5 years, he has successfully taught over 300 students learn Quranic Arabic by distilling concepts that he used to find difficult into basic building blocks that can be easily grasped.
Today, with Quran Academy, he shares the 5 essential mindsets you need to develop to understand the Quran in Arabic, faster and easier than you ever thought was possible.